Lecture Series On Innovative Research "Project Writing & Funding Oppurtunities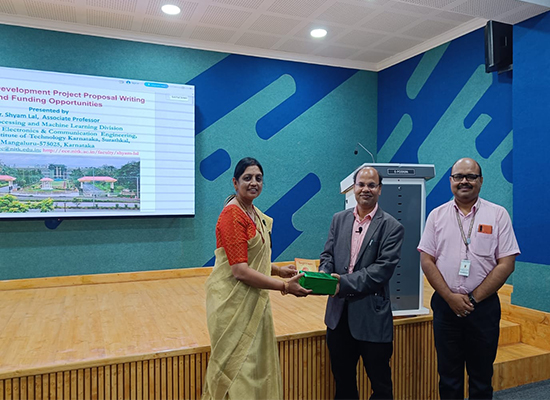 Event conduction details:
DATE: 08th Nov 2023
TIME: 2:00-4:00 PM
VENUE: Tejas Seminar Hall , NHCE
Coordinators: R S SyamDev,Sr.Assistant Prof. AI&ML, Dr.P.Adhikary,Professor & Associate Head-R&D
Convenors : Dr.Uma Redddy N V ,Professor & HoD, AI&ML, Dr.Revathy V ,Professor & Dean R&D
Total number of participants : 50
The department of Research & Development in association with Artificial Intelligence & Machine Learning  has conducted a lecture series on Innovative Research titled "Project Writing and Funding Opportunities" on 8th November 2023 at Tejas Seminar Hall.The objective of the lecture series was to provide insights on paper writing and funding opportunities in different research areas.It was delivered by the resource person Dr.Shyam Lal. He is working as Associate Professor in the Department of Electronics & Communication Engineering, NITK, Surathkal, Mangalore (Karnataka), India. He is CEO and Director of M/S AIQUANTUM SMART SOLUTION PRIVATE LIMITED, STEP-NITK SURATHKAL, KARNATAKA, INDIA.  He is consultant of M/s Starfleet Ventures, Canada.
He discussed about R&D Research area ,Industry 4.0, how to select research project topic, components of a research project proposal, common errors in writing project proposal with a specific example of SERB-DST Project proposal.
He started the session by explaining the necessities vital for grant application in an competitive environment. The  importance of quality of the proposal that contributes a lot to the evaluation outcome also been discussed.He turned to explain further, the important areas where we can focus for research such as AIML Optimization algorithms, Cyber Security, Histopathology, Satellite and Areal image processing etc. He explained in detail the components of research proposal and the expected technical as well as the social impact of the proposal was discussed further. Common errors in writing the proposal was also elaborated. He shared his insights on the reviewers parameters on the evaluation of a SERB-DST proposal. Also he shared about the various government funding schemes. About 50 participants attended  and the lecture was useful  and very informative to all attendees.